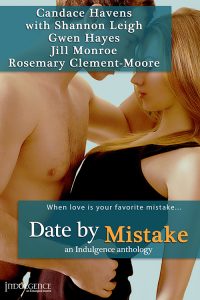 Title:
Date by Mistake (an Indulgence Anthology)
Published by:
Entangled Indulgence
Release Date:
March 11, 2013
Contributors:
Shannon Leigh, Gwen Hayes, Rosemary Clement-Moore, Jill Monroe
Genre:
Anthology, Sexy Romance
ASIN:
B00BQMKD62
You never know what you'll get when…
Tycoon Reunion by Candace Havens and Shannon Leigh
Sparks fly when a project brings a heartbreaker back to town and into the path of the woman he left behind. He's determined to win her over in the boardroom … and the bedroom!
Mr. Virile and the Girl Next Door by Gwen Hayes
Seduction is the name of the game when two rival dating advice darlings agree to be romantically linked to boost publicity. But all bets are off when they take the battle of the sexes from the web to the bed!
Passionate Persuasion by Rosemary Clement-Moore
A hot playboy who has left a string of hearts in his wake can't forget the cellist who haunted his fantasies. Now it is his turn to usehis power of persuasion to prove he's the only man to keep her satisfied.
Date on the Run by Jill Monroe
When an reporter mistakes a hard-bodied military man for a crime source, she soon finds it's just as much fun undressing her new bodyguard as it is uncovering her latest case…
Four stories, four dates. How can these dates by mistake turn into love ever after?