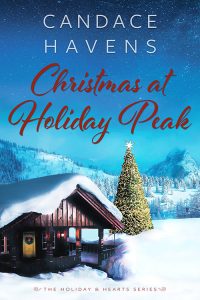 Title:
Christmas at Holiday Peak
Published by:
Amazon Digital Services
Release Date:
November 16, 2018
Genre:
Holiday Romance, Small Town Romance, Sweet Romance
ASIN:
B07K6ZXKRS
Since moving back to the idyllic Holiday Peak, where every holiday is a town celebration, Maisy Gardner has worked in her father's estate sale business and shop. She loves giving new life to old things and finding good homes for them. Sure, she hasn't had a date in two years, but she's all about growing her business.
And everything is going exactly as planned until Dr. Maxwell Montgomery shows up. He's dangerous and makes her think of what might have beens.
As the sole heir to his grandmother's fortune, neurosurgeon Max is in town to settle the estate. He's in the middle of making a big change, and once he has things settled in Holiday Peak, he's moving on to his dream life. What he didn't count on was running into the beautiful but set-in-her-ways Maisy Gardner.
While the past may be fun to remember, this pair has different futures in mind. Love will face more than a few blizzards if these two have any chance of finding a happily ever after.

Buy the Book:
Amazon
Also in this series:
"Candace Havens weaves stories of sweet romance, deep emotion, and true love. Reading her is like taking a vacation—one guaranteed to leave a smile on your face and warm fuzzies in your heart." — bestselling author Sasha Summers