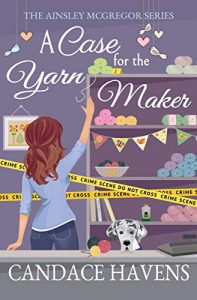 Title:
A Case for the Yarn Maker
Published by:
Tule Publishing
Release Date:
April 16, 2020
Genre:
Cozy Mystery
ASIN:
B083MWYR7B
Spin a yarn…at your own risk.
Everyone at Bless Your Art in Sweet River, Texas, is excited about the Yarn Goddess (yes, that's her real name) coming to town. Ainsley McGregor has set up a special event at the local community center, but when old Mrs. Whedon doesn't see eye-to-eye with the Goddess about using quality yarn, a fight breaks out. Who knew the octogenarian had ninja moves like that?
It's all fun and games until George Clooney, Ainsley's Great Dane, finds Ms. Yarn's dead body in a booth at Bless Your Art. Now the prime suspect is Mrs. Whedon, and while she's not the easiest woman to get along with, there's no way she's the killer. At least, Ainsley doesn't think so. As this yarn unravels, Ainsley and her quirky friends learn some interesting things about the case and the Goddess's checkered past. But there's a killer on the loose, and George may be the only thing protecting Ainsley from certain death.

Buy the Book:
Amazon
, 
Barnes & Noble
, 
Kobo
Also in this series:
EXCERPT
Are you done for the day? I was wondering if you and George might want to join me for a hamburger at the Dairy Queen." Jake gave me one of his devastating smiles. Understandably, I couldn't say no.
We'd been spending time together as friends. Would I like more? Probably. But I wasn't very good with relationships and this was a small town. If something happened between he and I, folks would have to take sides.
Nope, it was best to keep my feelings to myself in that regard. Besides, I think, probably because my brother is his best friend, he didn't see me as anything more than a kid sister.
"That sounds great. But George isn't allowed to have cheese on his burgers anymore. There are…um, aftereffects, at an atomic level. Last time I almost made him become an outside dog permanently."
"Good to know. He ate the heck out of some fried chicken earlier. And don't worry, I took it off the bone for him." Jake chuckled.
While food didn't sound super appealing, ice cream did. My throat was so raw from talking all day and the cold meds were wearing off.
"I need to put that stuff inside." I pointed to the boxes in his arms. "And then we can go."
I held the door open for Jake as he followed me through. "Where do you want these?"
"On the counter is fine."
Jake's muscles were nothing short of arm porn.
Stop it.
I forced myself to look away but that didn't keep warmth from spreading through my body.
Just. A. Friend.
I had to keep reminding myself of that. Every woman in this town wanted to date him, and I wasn't going to be one of those women.
George pulled on his leash and whined. He probably wanted a treat from the break room.
"No. We're not staying. We're going to get hamburgers," I said.
His ears perked up, but he still pulled me toward the center of the store.
Maybe someone was in here. "Hello? Is somebody here?"
There was an eerie silence. The hair on my arms stood at attention, which was never a good sign. Someone or something was here.
George slipped from my grasp and charged away.
"What's going on?" Jake fell into step beside me.
"I hope we don't have mice or rats. We did before the renovations, but the pest control guys assured me we were all clear." But dread sat heavy on my chest, making it difficult to breathe. This wasn't vermin.
George's whine intensified.
We rounded the center booths and Jake caught my arm as I stumbled a bit over George's tail.
"No," I gasped.